Clear
Luxury.

Timeless

Beauty.
YOUR BATH SHOULD BE A SANCTUARY OF
LUXURY AND BEAUTY.
MAKE THE BEAUTY LAST


WITH THE TIMELESS CLARITY OF CLARVISTA® GLASS.

Clarvista® Glass provides a lifetime protective coating that keeps your new shower enclosure looking sparkling clear by preventing the dullness that can come from heat and humidity over time. With Clarvista®, the look you love now will remain beautiful for years to come.
DESIGN WITH CLARVISTA® GLASS
Clarvista® Glass is the perfect choice for today's seamless shower designs. Why? Because Clarvista® Glass protects the clarity right from the beginning and keeps it clear for the lifetime of your shower glass.
And it's as functional as it is beautiful. With the durable Clarvista® Glass coating, you get a super-smooth, protective seal that helps your shower glass stay cleaner longer and makes it easier to clean when you need to.
Achieve the exact look you want for your bath with one of these distinct glass types:
CLARVISTA® GLASS COATING
ON CLEAR GLASS BY VITRO ARCHITECTURAL GLASS

Clarvista® Glass lets the beauty of standard clear glass by Vitro Architectural Glass shine through.
CLARVISTA® GLASS COATING ON VITRO ARCHITECTURAL GLASS
STARPHIRE ULTRA-CLEAR GLASS®
The Clarvista® Glass protective coating is as transparent as the glass itself, which makes it ideal for preserving the clarity and brilliance of Starphire Ultra-Clear Glass®.
CLARVISTA® GLASS COATING
ON ACID-ETCHED GLASS

Clarvista® Glass coating also can be combined with Walker Textures' acid-etched glass to provide privacy through a translucent satin finish.
WHY CLARVISTA® GLASS?
If left unprotected, even the highest-quality glass can become dull and hazy after years of heat and humidity in a shower enclosure. Protect your investment by using Clarvista® Glass to provide supreme clarity and lasting durability.
Unlike sprayed-on coatings, the Clarvista® Glass coating is fused to the glass during manufacturing, sealing the glass surface with a lifetime protective barrier. So with regular maintenance, shower enclosures built with Clarvista® Glass will maintain their beauty and clarity for many years to come.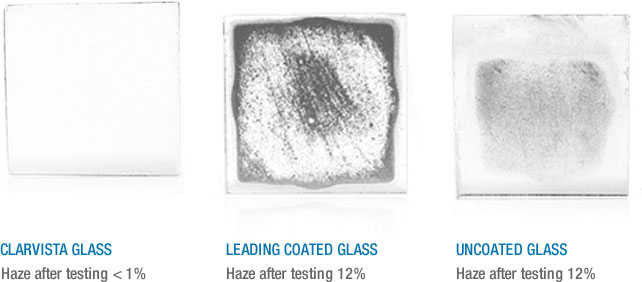 LAB TESTS PROVE CLARVISTA® STAYS CLEARER LONGER
We put Clarvista® Glass up against uncoated clear glass as well as the leading shower enclosure glass in a "jungle box" torture test that simulates years of exposure to heat and humidity.
After only 175 hours in this test, uncoated clear glass started to show signs of haze and was significantly stained at the end. Even the leading shower glass showed considerable corrosion.
But not Clarvista® Glass.
In fact, even after rigorous scratch- and chemical-resistance tests, followed by 1,000 hours of exposure to heat and humidity, the clear beauty of Clarvista® Glass just keeps shining through.
Choose Clarvista® Glass to ensure that your shower glass looks as beautiful years from now as it does today.
Download our technical paper about the "jungle box" test.
CARING FOR CLARVISTA® GLASS
Now that your Clarvista® shower glass is installed in your home, follow these cleaning guidelines to maintain its stain-resistant coating and keep it looking beautiful for years to come:
Always use a mild soap or glass-cleaning solution to clean your shower glass.
Use a clean, lint-free cloth to remove soap scum, dirt and other shower residue.
Don't use shower cleaning solutions or products that contain abrasives, such as Ajax or Comet powdered cleansers.
Avoid wiping the glass too hard when cleaning products are on the glass to prevent scratches.
Thoroughly rinse all cleaning solutions and other debris off the glass.
Rinse all cleaning solutions from shower heads, faucets, door handles, frames, guides, hinges, fasteners and any rubber or plastic sealants, then dry with a soft cloth.
Wipe away splashed materials—such as dirt or oil—before they dry on the glass surface.
Never use scrapers or razor blades to remove stubborn deposits or labels.
Tip: Invest in a small, handheld squeegee and keep it handy. Simply squeegee the glass while it's still wet after each use to keep it sparkling and make regular cleaning quick and easy.
Acceptable Cleaning Agents
Cinch® 2in1 Cleaner (Procter & Gamble)
Glass Plus® (Reckitt Benckiser, Inc.)
Goo Gone® (Magic American Corporation)
Tile Action™ Daily Shower Cleaner (USA Detergents, Inc.)
Windex® Products (S.C. Johnson & Son, Inc.)
Baking Soda (sodium bicarbonate)
Lime-A-Way® (Reckitt Benckiser, Inc.)
Mr. Clean® (Procter & Gamble)
Ultra Clorox® Bleach (The Clorox Company)
White Vinegar (5% acetic acid)

For more information about Clarvista® Shower Glass, visit www.VitroGlazings.com.
WHERE TO BUY CLARVISTA® GLASS
You can get Clarvista® Glass through approved Vitro Architectural Glass fabricators throughout the United States, Canada and Europe. Select a country below for a full list of Clarvista® Glass suppliers.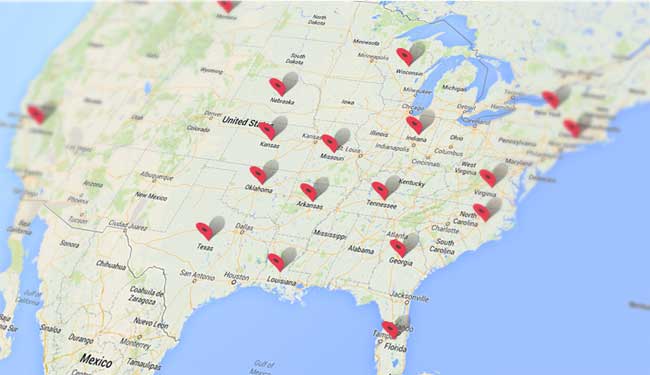 PHOTO GALLERY
The timeless beauty of Clarvista® Glass begs to be immortalized. Browse our gallery of projects to see for yourself that Clarvista® Glass is cleary the choice when it comes to showers and baths of all styles. We invite you to share photos of your own project and tell us about your Clarvista® Glass experience.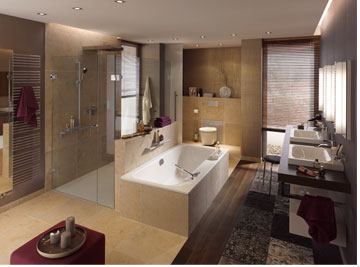 Submitted 9/5/2014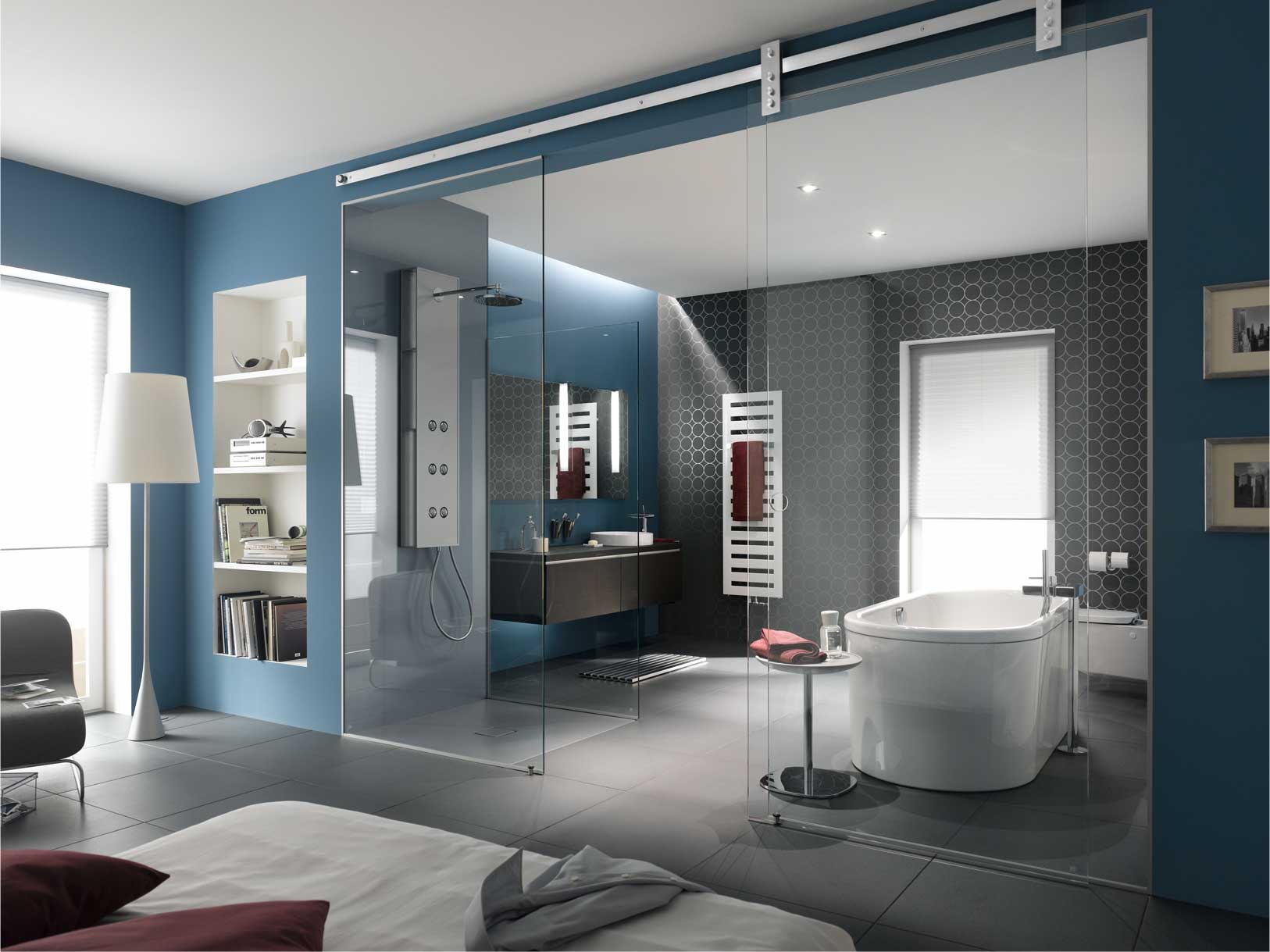 Submitted 7/23/2014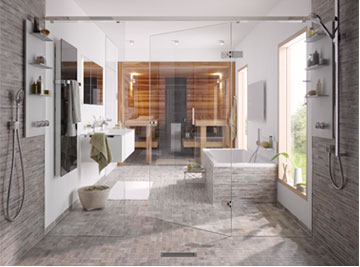 Submitted 8/4/2014